The name Dublin is derived from the words "Duhb" and "Linn." It came about during 836 when the Vikings first anchored their mighty ships in Dublin Bay and built their trading post nearby a black pool called "Duhb Linn" by the local Irish people. Following the Vikings were the Anglo-Normans and the English. With such a strong medieval bunch having settled in Dublin for centuries, it is no wonder that they left quite a legacy.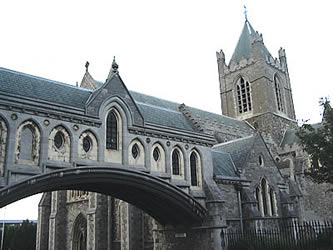 One of what promises to be the most memorable stops is Dublinia. Located next to Christ Church, it is a living memorial to the middle ages. There are clothing stalls which allow guests to try on medieval clothing! I would think that this is one place where it would be quite appropriate to wear a maiden's gown or a chain mail. There are also pie stalls and medicine tents. What better time to live out 19th century fantasies? On the other hand, those with a more academic can check out the various exhibits that showcase much of the city's rich history.
Naturally and literally, there's no way visitors can miss the glorious Christ Church. It is one of the finest historic buildings in Dublin and stands at what is regarded as the oldest part of the city. Aside from the brilliant stained glass windows, visitors can go and transform into explorers as they search for the church's treasures: the tomb of Strongbow, the great Normal Lord who conquered Dublin; figures of wooden castles, the lion and the unicorn and the heart of a holy bishop. Great things await those who dare explore a little more.
Another one of the city's oldest buildings is Dublin Castle. Unlike most castles throughout Europe, Dublin Castle is not as taken care of. And with good reason! This castle used to be the center of power way back when the English took over Ireland. However, it still possesses a somewhat grand presence and is open to tours.
Tourists who might be searching for the legendary black pool won't find it quite in the same form as all those years ago. Through the years, Duhb Linn has evolved into Duhb Linn Gardens. Instead of walking on water, guests will be walking on greens. This garden is connected to Dublin Castle and boasts of a beautiful Celtic Knot design on the grass.
Dublin is undoubtedly known for its world-famous literary history. And in Ireland's national cathedral lies one of the world's most well-known and well-loved literary giant. Jonathan Swift, author of Gulliver's Travels, is buried in St. Patrick's Cathedral. I cannot think of a place more worthy as his resting place. St. Patrick's Cathedral currently stands where St. Patrick baptized Christian converts way back in the 5th century.
There is a lot more to be discovered in Dublin if one is patient enough. Even when walking on foot, guests will realize that Dublin is a city that holds something deeper with a closer look.