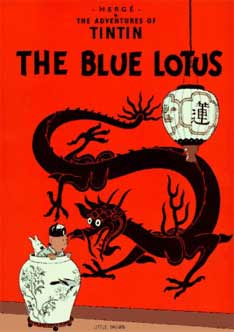 Ok, so Tintin is fictional, and a comic book for that matter, but in terms of the sheer adventure in exotic locales around the world, the fearless, young Belgian reporter definitely makes my list of top travellers.
I first discovered Tintin in my childhood, when I was around 10 years old, and devoured each one of his adventures in hours, excitedly going through the entire collection in no time at all. Favourites of mine included Cigars of the Pharoah, Red Rackham's Treasure and Flight 714 – (remember Captain Haddock feeling sorry for Lazlo Carriedas and putting cash in his hat?). Now, I've just started reading "The Blue Lotus" to my 4 year old, who seems to be as enthralled as I was.
Tintin's Travels Around The Globe and Beyond
The settings within Tintin have also added depth to the story Hergé mingles real and fictional lands into his stories, along with a base in Belgium from where the heroes set off. This is originally 26 Labrador Road, but later Marlinspike Hall. This is best demonstrated in King Ottokar's Sceptre, in which Hergé creates two fictional countries (Syldavia and Borduria) and invites the reader to tour them in text through the insertion of a travel brochure into the storyline. Other fictional lands include San Theodoros, San Paolo and Nuevo Rico in South America, the kingdom of Gaipajama in India, Sondonesia in Australasia and Khemed in the Middle East. Despite these fictional countries, he also included real countries and places; the U.S.A., U.S.S.R, Congo, Japan, Belgium, Egypt, India, Sahara Desert, Germany, Scotland, England, Peru, Tibet and China. Another setting was the Moon, and in the first edition of Land of Black Gold, Palestine, though this was later replaced by the fictional Khemed.
As French President Charles de Gaulle said "My only international rival is Tintin." 
[tags]famous travelers,travel,Tintin, Snowy[/tags]