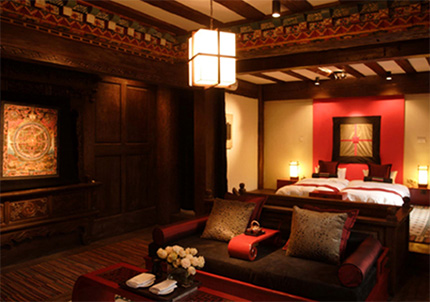 Like the Aman-junkies (devoted Aman resort followers who langorously troupe from one luxury Aman resort to another), Banyan-junkies are now flocking to the latest Banyan Tree hotel high up in the mountains of Yunnan, China which opened this month.
Amid a Tibetan-style atmosphere of meditative Buddhist temples, prayer flags and gorgeous mountain views, the hotel is located a gasping (literally) 10,500 feet above sea level in a beautiful part of Sothwestern China in between Tibet, Myanmar and China's Sichuan province.
The rooms are massive and decorated rather somberly with dark woods and large splashes of Chinese red lacquer and quilted curtains teeming with Tibetan flavour. The smallest room of the hotel, the Tibetan suite sprawls at 2,200 square feet and all the other rooms of the hotel are likewise on two floors.
The bathrooms are equally grand and spa-like in size, with more lacquer and tubs so large that one guest reported that his actually took over an hour to fill. To be expected are the mod cons easily found in most top hotels and resorts these days – the dvd and cd players, satellite television and high-speed internet to perhaps keep up with your blogging away from home.
There are two restaurants and a tea house to choose from, serving Chinese, Tibetan and Western cuisine. Of course, you could also choose the in-room dining option which is served until late in your room or in the romantic privacy of your courtyard garden.
The reason why this resort is so special (and near the top of my list of hotels to visit) is not its opulent comforts, but in its location, location, location. For the Banyan Tree Ringha is set in what James Hilton so wonderfully described in one of my favourite novels, "Lost Horizon" – reportedly Shangri La itself.
And after a hard day's trekking and exploring (by four-wheel-drive) with one of the hotel's expert guides, you can then treat yourself to a gloriously exotic-sounding treatment at the resort spa – perhaps a rice wine bath followed by a black sesame scrub to prepare you for another day in the Himalayan paradise.