Ever heard of the Orient Express?  Readers of Agatha Christie should be familiar with her novel, "Murder on the Orient Express".  It was also used in the James Bond movie "From Russia With Love".  The Orient Express is the name of a long-distance passenger train originally operated by the Compagnie Internationale des Wagons-Lits. Its route has changed many times, and there are actually several privately run trains that use the name as well. Although the original Orient Express was simply a normal international railway service, the name has become synonymous with intrigue and luxury travel.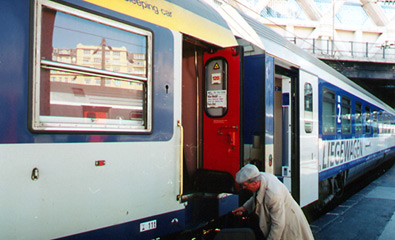 The original route, which first ran on October 4 1883, was Paris-Munich-Vienna-Giurgiu.  At Giurgiu, passengers were ferried across the Danube to Rousse in Bulgaria, to pick up another train to Varna.  From Varna, the journey would be completed by a ferry to Istanbul.  The current Orient Express serves neither Paris nor Istanbul, but rather runs from just Strasbourg to Vienna (although connecting trains continue to provide rail service over all of the historic Orient Express routes). It's a normal scheduled 'EuroNight' express, run by the German and Austrian national railways (DB and ÖBB), and you can travel on it with normal tickets, including InterRail and Eurail passes.  It has normal Austrian Railways seats, couchette, and sleeping-cars.  Until 8 June 2007 it left Paris every evening at 17:16 and arrived in Vienna at 08:30 next morning.  As of 9 June 2007, you leave Paris at 19:24 by TGV to connect with the Orient Express at Strasbourg.  The Orient Express leaves Strasbourg at 22:20 and arrives in Vienna at 08:51 next morning.  It's still the most time-effective, comfortable and convenient way to travel between Paris and Vienna.
            As I mentioned before, there's another train which carries the name Orient Express.  This is the Venice Simplon Orient Express (VSOE).  The Venice Simplon Orient Express is a privately-run train (in fact, two trains, one on  each side of the Channel) of restored 1920s, 30s, & 50s coaches, providing a once-a-week service London-Paris-Venice between March and November.  The complete London-Venice journey costs around £1,200 per person one way, including meals.  Established in 1982, this luxury train caters primarily to tourists. 
The sleeping-cars have 1- & 2-bed compartments that convert to private sitting rooms with sofa and coffee table for daytime use.  There are three dining cars, each with individual design and decoration.  Different meal sittings are served in each – you can experience all of them!  There's also a bar car, complete with armchairs and a grand piano.  Meals and afternoon tea are included in the fare, but drinks are extra on the Continental train.  Expect to see spectacular scenery on board,  such as Swiss lakes in Zurich and the scenic Arlberg Pass.  It's really a worthwhile, once-in-a-lifetime experience.