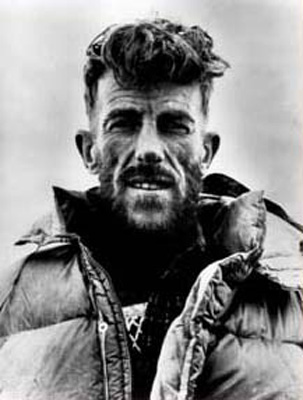 "My God! We've climbed the thing! We've done it!" ~ Edmund Hillary
Between 1920 and 1952, seven major expeditions had failed to reach the summit of Mount Everest. In 1924, the famous mountaineer George Leigh-Mallory had perished in the attempt. In 1952, a team of Swiss climbers had been forced to turn back after reaching the south peak, only 1000 feet from the summit.
Edmund Hillary joined in Everest reconnaissance expeditions in 1951 and again in 1952. These exploits brought Hillary to the attention of Sir John Hunt, leader of an expedition sponsored by the Joint Himalayan Committee of the Alpine Club of Great Britain and the Royal Geographic Society to make the assault on Everest in 1953.
The expedition reached the South Peak on May, but all but two of the climbers who had come this far were forced to turn back by exhaustion at the high altitude. At last, Hillary and Tenzing Norgay, a native Nepalese climber who had participated in five previous Everest trips, were the only members of the party able to make the final assault on the summit.
At 11:30 on the morning of May 29, 1953, Edmund Hillary and Tenzing Norgay reached the summit, 29,028 feet above sea level, the highest spot on earth. Edmund Hillary returned to Britain with the other climbers and was knighted by the Queen.
Now world famous, Sir Edmund Hillary turned to Antarctic exploration and led the New Zealand section of the Trans-Antarctic expedition from 1955 to 1958. In 1958 he participated in the first mechanized expedition to the South Pole.
Hillary went on to organize further mountain-climbing expeditions but, as the years passed, he became more and more concerned with the welfare of the Nepalese people. In the 1960s, he returned to Nepal, to aid in the development of the society, building clinics, hospitals and 17 schools.
Hillary was born in 1919 and grew up in Auckland, New Zealand. It was in New Zealand that he became interested in mountain climbing. Although he made his living as a beekeeper, he climbed mountains in New Zealand, then in the Alps, and finally in the Himalayas, where he made his mark in history.