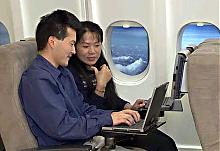 Connected in the internet sense, that is, and when it comes to staying online for business travellers, those in the know say that the only way to go is wireless.
Here are some useful tips to stay connected even in the most difficult places:
1. Know the Hotspots

Before you leave, visit websites which list down wi-fi access hotspots to know what you're up against. Wifi Free Hotspot, Wifi Finder and Ji Wire are good sites to check out, having useful lists and/or search tools to find your location. Also including airports and hotels around the world.
2. Consider Hardware Aids
You can now find hardware tools that combine wireless scanners with network adapters enabling you to scan your location for Wi-Fi signals before you even turn on your computer.
3. Be Wary Of Steep Charges
Hotels, airports, airlines, cafes and the like may offer wi-fi at a convenience, but the costs are often not too fair. You may want to work offline when at an airport or plane to save on costs, then send the work once you get on land.
4. Look Into New Services
Many cellphone provider companies now offer wi-fi access from your phone. This may still have a few kinks though, as access may be limited to metropolitan areas. Newer technologies like WiMax set to come out next year may be the answer here, being a combination of cellular and wi-fi with faster speeds and broader coverage.
[tags]Business travel,Wi-fi,internet,travel[/tags]