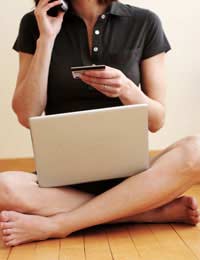 Much as I am a self-confessed Ebay junkie, I've always been suspicious of "untangiable" goods offered on the site like travel deals. Some years ago I bought a cheap ticket to Australia (the person had won it in a raffle) through the auction, and although I was able to indeed use the ticket, the whole process wasnt the easiest to arrange. At the end I would have paid the extra cash to just get it from my travel agent, hassle free.
But anyway, coincidently also in Australia, a travel scam took place, which should serve as a warning for us all:
A TASMANIAN woman faces jail after pulling off a travel scam on popular internet auction site eBay.

Nadia Lee O'Loughlin, 24, of Sutton Place in Burnie, appeared in the Burnie Magistrates Court yesterday.

She pleaded guilty to one count of using a computer with intent to defraud.

Prosecutor Colin Buxton told the court that on March 2, 2005, an $8000 travel voucher was placed on eBay for auction. The item attracted 37 bids over three days, and was purchased by the complainant, Nicole Martin, for $3450.

"On March 10, 2005 the complainant sent four money orders totalling $3450 to the Burnie Post Office," Constable Buxton said.

"On March 15 Nadia Lee O'Loughlin went to the post office, showed a driver's licence as identification, and cashed the money orders immediately."

Constable Buxton said the travel voucher was never sent, and it was reported to eBay and police for investigation.

He said police spoke to O'Loughlin in August and established the travel voucher had not existed.

Defence counsel Kate Edwards said at the time of the offence O'Loughlin had a significant problem with illicit substances.

She said O'Loughlin's involvement in the scam was to collect the money from the post office, but it all went to another person.

Magistrate Don Jones said he had grave concern that O'Loughlin would not reveal the name of that person.

O'Loughlin was bailed until May 28 to allow a pre-sentence report to be prepared.