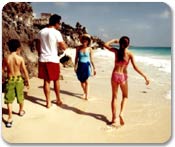 One of the major cruise companies in the United States, Royal Caribbean International has a good program for children in their family cruises. Realizing that the market for family cruises has grown considerably over the years – and is continuing to grow, actually – this cruise line offers quite an extensive array of activities for families with children.
Onboard, you can be sure that you and your children will have plenty of things to do without them asking every minute "Are we there yet?" They have ice-skating, karaoke, talent shows, bingo tournaments, and a family disco. Of course they have pools – some of which have special features such as the FlowRider, which is a wave simulator. If you are a golfing family, you can even play golf onboard. Rock climbing is also available. Of course, the availability of specific activities depend on the ship.
They also offer shore and land excursions that are specifically geared towards children. Most of the trips on land are on beaches and there are different activities that are children friendly. They also offer different programs for different age groups.
If you have babies and toddlers, you will be happy to note that Royal Caribbean offers Fisher Price Playgroups. These are sessions wherein children from 6 months to 36 months of age can interact with other children. Each session lasts for 45 minutes. Your kid has to have a companion during the sessions, though.
One of the best things about Royal Caribbean is that they offer babysitting services so that you can take some time for yourselves. You can avail of group babysitting or private babysitting services. For more information, visit their site here.